When it comes to building a relationship with your customers, visuals – specifically videos – are your best option. In this Social Media Day Recap, you'll hear from various experts on how to educate and entertain your prospects with video and images while guiding them through the buyer's journey. Read on or watch the video below to learn how your brand can build solid relationships with your audience through the use of video content.
How to Invite User-Generated Content on Snapchat
Mark Kaye, a host on the radio station 95.1 WAPE in Jacksonville, is a Snapchat influencer. During his session, he talked about how to involve your viewers and encourage them to create content. User generated content can then be used in other ways. He made a "12 days of Christmas Mash-up" by asking followers to send him one word that they like most about Christmas. He then took all of the clips and pulled them together to make a video.
Casie Shimansky from Cisco discussed their employee advocacy program. They enlist employees to conduct daily takeovers of their Snapchat. Selected employees are given the password to Cisco's Snapchat and encouraged to post to their story. Their posts include snapshots of their days while working at Cisco, their favorite products, and more.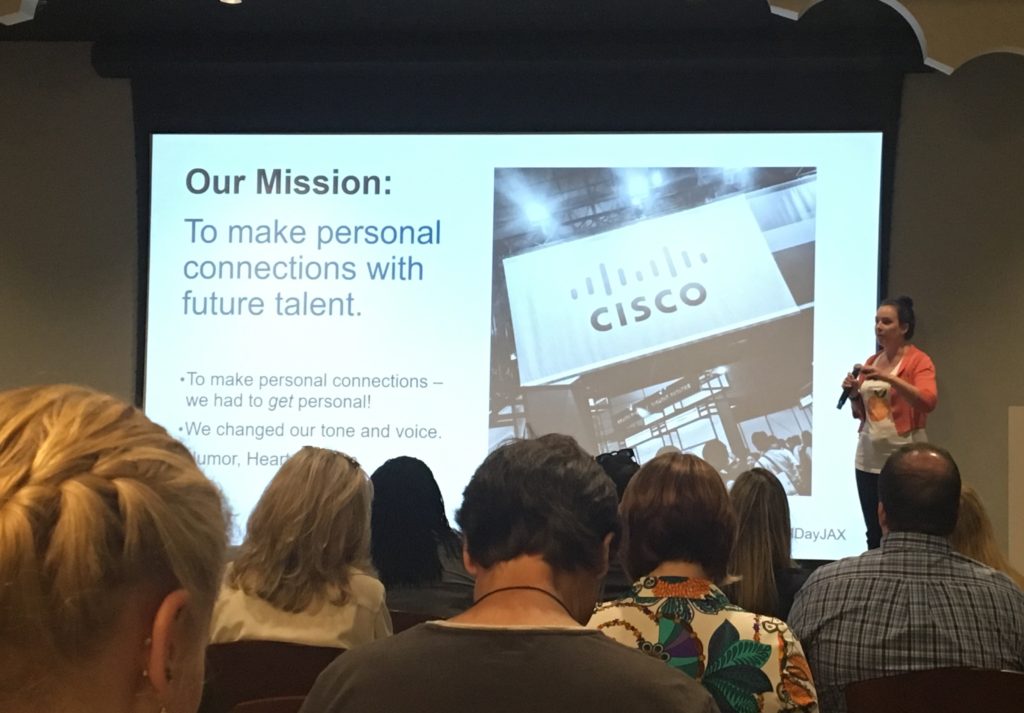 Focus on a Problem in Your YouTube Videos
Roberto Blake is a Designer, YouTube Creator, and Marketing Consultant. He recently hit the mark of 1,000 YouTube videos on his channel. Roberto noted how 80% of adults over 25 years old are watching videos on YouTube. To build your brand on YouTube, he recommends owning a problem.
You can look at YouTube as oversaturated, or work to own the problem or solution that your company solves. If you're not sure what to create your videos about, Roberto recommends starting with a Twitter search of #_____problems (fill in the blank with your industry). Try to address every stage of the buyer's journey. Create content answering your company's FAQs to save your sales team time from answering the same questions over and over again.
How 100 Facebook Live Videos in a Month Evolved to Two a Week
Nasdaq's Head of Social Media, Anna Gonzalez spoke about how they're using Facebook Live in their content strategy. Their social team consists of three people, but that didn't stop them from creating 100 videos in one month. A few other months they were pretty high up there with their video count too. They've scaled back now and publish about two a week, but they collected a lot of data to analyze during those high volume months.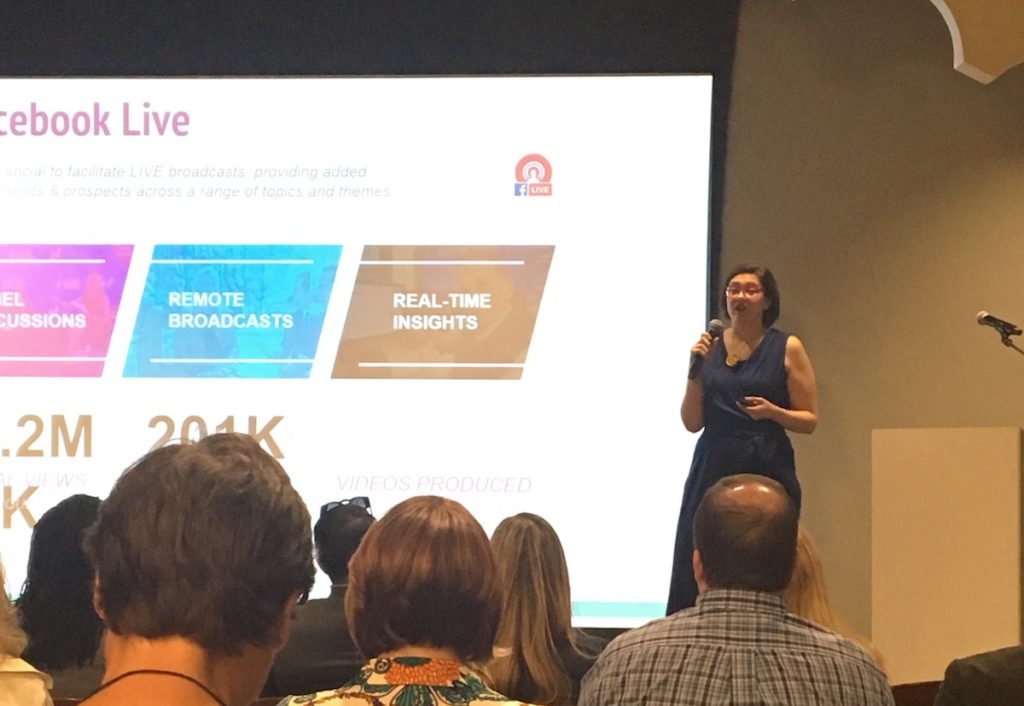 Anna pointed out that a view is counted after three seconds of a person watching your video. Keep this in mind when analyzing your own videos. Experimentation on Facebook Live is a must, especially with their ever-changing algorithms.
Influencer Marketing and Instagram
Marketing expert Kenny Harper is Co-Founder of Rock My Image in Jacksonville. He talked about influencer marketing and how 92% of those who have worked with influencers see it as successful. To be the best influencer you can be, he says to be consistent. That doesn't mean daily postings but stick to a schedule.
Chad Israel from Hertz Rent a Car gave real-life examples of how their brand is partnering with influencers. There doesn't have to be an exchange of money; many influencers will collaborate on a trade if what you are offering is valuable to them. In their case, a rental car. Working with influencer Matt Pierce, Hertz invested about $3,000 in trading a car for two months. Chad said that the return on investment was about $200,000! That's from images and video assets that the influencer created. This example showed that you don't need a huge budget to work with influencers.
The final speaker at Social Media Day Jacksonville was Curtis Midkiff from Southwest Airlines. Previously a DJ, his entrance with a Yankees cap and Jay-Z playing in the background only made sense. Curtis reminded everyone about social listening to gauge audience sentiment. He said you need to have a plan but be flexible, adapting as necessary.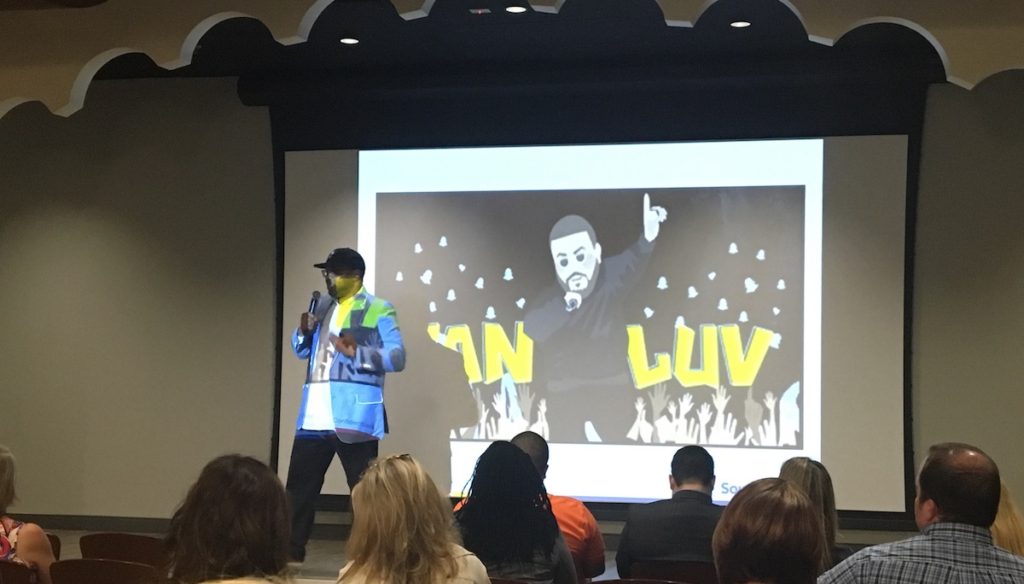 Tieing back to part one of my recaps, Carlos Gil said, "The word fun is often lost in marketing." When creating content of any kind remember to make it enjoyable. People don't want to see advertisements. But if you make it a pleasurable experience, they may not be so apt to jump away to the next thing online.
[bctt tweet="The word fun is often lost in marketing. – @carlosgil83 #SMDayJAX" username="meaghanmae"]
Read and/or watch part one of my Social Media Day Jacksonville Recap: Biggest Takeaway from Social Media Day Jacksonville – Video is a Major Key