As social media continues to evolve, one of the most talked-about topics right now is whether or not to use hashtags on Instagram. I'm sure you've seen influencers dancing around on reels lately, telling you that hashtags are a waste of time and no longer work.
I disagree.
The Argument FOR Hashtags on Instagram in 2023
Hashtags tell Instagram what your content is about. They're a great way to categorize posts, making them visible to users who otherwise may not have found you. However, generic or overly used hashtags like #acupuncture or #yoga are often flooded with other people's posts, decreasing their effectiveness. Do some research and identify several "long-tail" hashtags like #acupunctureforfertility or #therapeuticyoga.
I've discussed the importance of using regional hashtags to improve your local social media presence, so I won't go into it too much here. The basics are to search neighborhoods, town/city names, and abbreviations for your area to find your local hashtags.
The max number of hashtags allowed per Instagram post is 30. Even though it might sound tempting, you should only use relevant hashtags that are directly related to your content. Consider the relevance of each hashtag you choose. Using too many may not help, and using none at all can leave your content hidden from potential followers. 
Evaluate Your Hashtag Performance with Instagram Insights
While celebrities and influencers with thousands to millions of followers may not find it necessary to use hashtags, your Instagram Insights will give you a better idea of what's right for your account.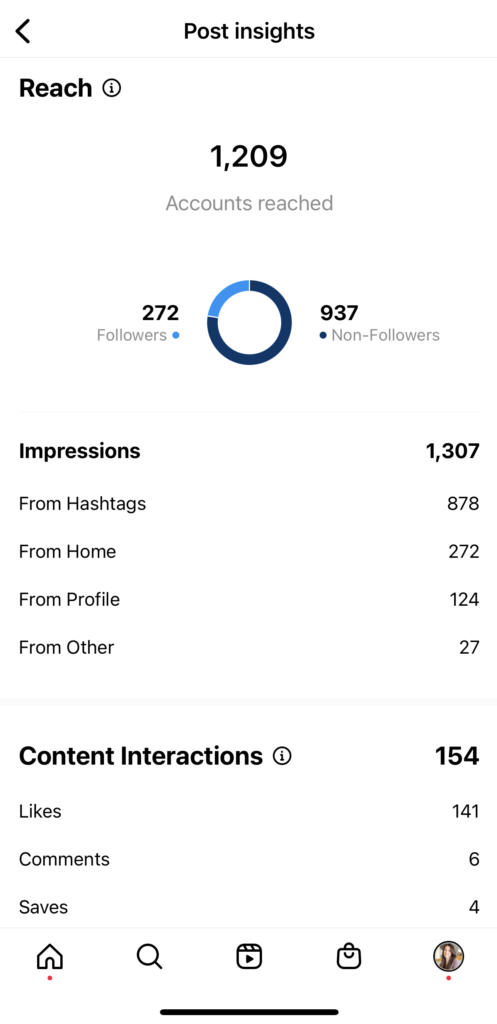 In the above screenshot, you can see there were 878 impressions from hashtags compared to 423 attributed to Home, Profile, and Other. That's more than half and is reason enough for me to continue using them.
Check out the insights on your single image and carousel posts to see how many impressions are from hashtags versus from the home feed. This will give you an idea of whether using them has been worthwhile for your account up to this point. You may find out that hashtags aren't really working for you, in which case I'd recommend doing some hashtag research to find some new ones. 
Get Expert Help with Social Media Management for Your Small Business
Ultimately, quality content will encourage others to follow your page and turn followers into customers or patients, not hashtags. But remember, there is no one-size-fits-all approach when it comes to using hashtags – it all depends on what works best for you!
Need help managing the social media accounts for your small business? Tidal Creative Group can help! Learn more about our services here and if you don't see something that works for you, feel free to email [email protected] to discuss other options.