If you're like most small business owners, then you're always on the lookout for new and innovative ways to market your business. And if you're not already using Instagram, then you're definitely missing out! Instagram is a great way to connect with your customers and share images of your products, services, share a peek behind the scenes, and so much more.
One of the newest features – and coolest to my marketing-focused mind – is that you can pin posts to your Instagram profile so that they stay at the top of your feed. Instagram pinned posts are front and center for new people first checking you out and those long-time followers who are finally ready to engage more with you.
The question is what to pin. Should you share your most engaged posts, a sales pitch, an educational reel, or something else?
In this blog post, I'll show you how to set up your three pinned posts on Instagram and a few ideas of what you should be pinning to get the most value out of them.
What to Add to Your 3 Instagram Pinned Posts
Instagrammed pinned posts are a great way to address HubSpot's Flywheel model that replaces the marketing funnel of days past.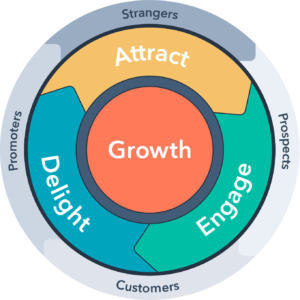 The idea of the Flywheel is to "Attract, Engage, and Delight" the strangers who become prospects, then customers, and eventually promoters of your business. It keeps your business growing. You can learn more about the HubSpot Flywheel on their website.
Back to the Instagram pinned posts…
The three posts that you pin to Instagram should move people along in their buyer's journey and help them to build a relationship with you and your brand.
Following the Flywheel, let's look at a few options. The types of posts listed could overlap in multiple steps of the Flywheel:
Your newest post
An educational post with a CTA to send you a DM
A post that quickly shares what you offer
A Q&A thread post to keep the conversation going
A client testimonial
A post that sets the tone for the rest of your feed (colors, fonts, design, etc.)
A post that explains how people can get started
An introductory post that shows why you're the right person to work with
Your most engaged post or reel
Use a mix of single-image posts, carousels, reels, and videos in your top 3 pinned posts. People absorb information better in different formats so trying to connect in multiple ways is always helpful.
How to Pin Posts to Instagram
 The process to pin posts on Instagram is simple to do the first time and when you want to switch out your pinned posts to something else in the future.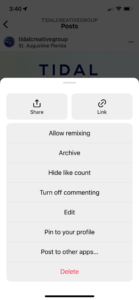 Here are three easy steps to set your pinned posts on Instagram once you've identified them:
Go to your Instagram profile and tap the post.
Click the ellipsis (…) and tap "Pin to your profile."
Repeat for the other two posts.
That's it! You can confirm the three posts that are pinned by the pushpin at the top right of the images on your profile.
Removing pinned posts is just as easy. Click the post you want to remove, tap the ellipsis, and tap "Unpin from your profile."
Need help with your Instagram strategy?
In addition to our done-for-you services, we also offer digital marketing consulting and coaching. This option saves you some money and allows you to handle digital marketing yourself. Click here to send a message and set up a call. Your first 15 minutes are free!